Explore Gas Cylinder Pallets / Banks
Industrial Gas Supply Company (IGSC) is the leading industrial gas cylinder pallets supplier in Faridabad, Delhi NCR, India. Gas Cylinder Pallets are also know as gas cylinder banks or gas cylinder cascade or gas cylinder quads. We provide high-quality products that meet the specific needs of our customers. We offer a wide range of products that are designed to meet the unique requirements of each customer, and our team is always available to answer any questions or concerns.
If you're looking for high-quality cylinder pallets, you've come to the right place. we offer a wide variety of pallets to choose from, all of which are made from the highest quality materials. We're confident that we can provide you with the perfect pallets for your needs, and we're always happy to answer any questions you may have. Contact us today to learn more about our products and services.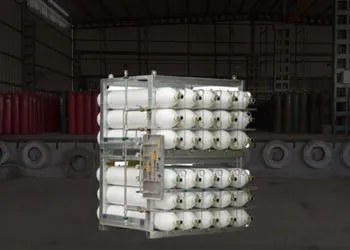 Horizontal Cylinder Pallets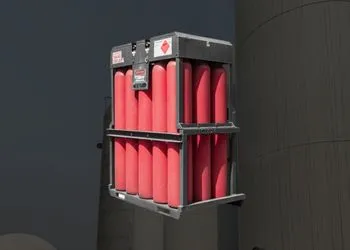 Vertical Cylinder Pallets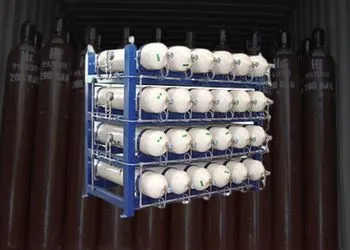 Cylinder Manifold Pallets
Cylinder pallets are a type of pallet that is specifically designed to hold cylinders. They are typically made from a sturdy material such as wood or metal, and have a circular or oval shape to accommodate the shape of the cylinders. Cylinder pallets are often used in industrial settings to store or transport cylinders of gas or other liquids.
Cylinder pallets are an important part of the transportation and storage industry. They are used to transport and store cylindrical objects, such as barrels and tanks. Cylinder pallets are made from strong and durable materials, such as steel, aluminum, or plastic. They are designed to support the weight of heavy objects and to protect the contents from damage. Cylinder pallets are available in a variety of sizes and styles, to suit the needs of different businesses.
We offer a wide variety of cylinder pallets to choose from, and our knowledgeable staff is always available to help you find the perfect option for your needs. Whether you're looking for a standard pallet or a custom-designed solution, we're confident that we can provide you with the perfect product.
If you're interested in learning more about our cylinder pallets, or if you have any questions, we encourage you to contact us today. We'll be happy to answer any of your questions and help you find the perfect pallet for your needs.